Editing Documentaries That Inspire

You dream of creating thought-provoking films … docs that inspire and arouse people… not out of fear… but a loving desire to create positive change. Acquisition editors at PBS, HBO and other cable stations all want documentaries that deliver a strong narrative. At New Doc Editing, we offer two services to help directors structure their film into a compelling story that will keep viewers glued to the screen. Harness the dramatic power of screenwriting techniques in brilliant ways with our documentary editing and story consulting services.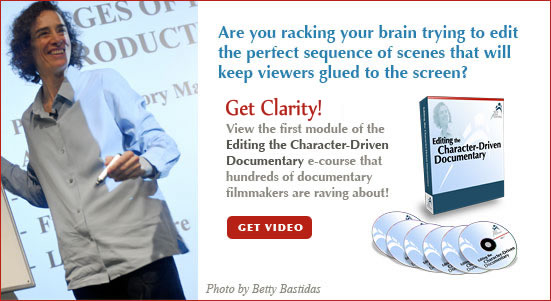 Make Your Film Come Alive
See your character-driven documentary come alive with our imaginative application of storytelling structure. Find the pace that will move audiences to laughter and tears. Imagine what it would be like if, after sitting on the edge of their seats throughout the film, your viewers walked out of the theater transformed. Remember the last time you were deeply touched by a film? What is the key to moving people so viscerally? First you find an inspiring story. Then we'll help you craft the story into a compelling film that will keep viewers riveted.

Karen Everett teaches editing at the top-ranked U.S. documentary program at UC Berkeley. on Vimeo.
Get Crystal Clear Direction
With A Copyrighted Story Map
As your work with our talented team begins, we first focus on articulating your vision. Our DOVES™ (Director's Outcome, Vision and Editorial Statements) process sets the tone for a harmonious collaboration and insures that the film you have in mind makes it on the screen.  You will also benefit from our Doc Plot Map™, which provides clear editorial direction from the get-go.  Picture having the support of a detailed plot diagram that shows where the key scenes will appear as you transition from assembly to rough cut. You'll love how our narrative techniques will build the emotional intensity of your documentary.  Imagine television executives bidding for your film.  It's a no brainer they'll want a film that does wonders for their ratings.
Free Article On How To Engage Viewers
For a taste of how to keep viewers hungry to know what happens next, check out our popular article on storytelling structure.  This cover story for Release Print Magazine will give you a fantastic primer on the building blocks of story development and our innovative storytelling solutions.
Free Consultation
To learn more about the great value that our award-winning Documentary Editing or Story Consulting services can bring to your film, email us to schedule a free 30-minute consultation.   Join us in an exciting collaboration that will keep your viewers glued to the screen!