"Documentary Editing" e-Book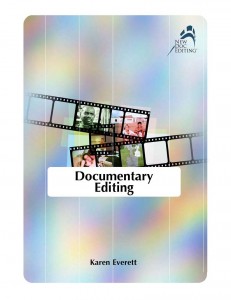 This unique ebook is for directors who want to create a highly compelling documentary film. It's the first comprehensive resource that focuses exclusively on editing documentary films. Documentary Editing reveals the story structures that will attract funders, how to edit your footage with meaty plot devices, and story doctoring techniques to fix problems in your rough cut. You will learn cutting-edge methods for structuring your footage into a highly watchable documentary that will keep your viewers glued to the screen.
More than just a textbook, Documentary Editing is an electronic workbook that allows the user to actually implement the ideas through exercises and assignments. For a limited time the introductory price is $27.97.
Buy Documentary Editing now and you will immediately receive this valuable electronic workbook. There's no waiting around for shipment through the mail.  (Note that the ebook is not the physical product pictured above. In honor of the environment, New Doc Editing chooses to primarily create digital products.)
"In simple language, Karen Everett offers a prescription for emerging filmmakers to translates their ideas into film. By following the exercises at the end of each chapter, filmmakers can save themselves untold hours of frustration, by foreshadowing some of the problems we create for ourselves from lack of foresight in pre-production and production."

— Ken Schneider, Co-Editor, Regret to Inform and Producer/Director, Speaking in Tongues
Chapters Include:
• Organizing Your Bins and Sequences
• Adapting the Three Act Structure
• Launching and Editing a Character-Driven Documentary
• Sustaining Momentum with Backstories and Reversals
• Crafting an Effective Climax
• Pacing with a Doc Plot Map
• Editing A Compelling Topic-Based Documentary
• Solving Structural Problems: How To Story Doctor Your Film
"Documentary Editing is a concise and invaluable guide to the editing process that will serve the novice and veteran alike. Karen Everett covers everything from finding and structuring your story to hiring an editor to making a fund-raising trailer in language that is precise and inspiring. This is an invaluable text from someone who knows."

— Susi Korda, Producer, William Kuntsler: Disturbing the Universe



"With an insider's love and knowledge of documentary form, Karen Everett takes us into the beating heart of documentary filmmaking. Expressive and comprehensive,  Documentary Editing gives us clear-headed and insightful strategies for a range of filmmakerly approaches to a variety of non-fiction subjects. Filled with useful references and possible scenarios, the book will be of enormous help to those of us who have sat in front of our unmade films and wondered how the hell we were going to move forward."

Robb Moss, Harvard University
Director, The Same River Twice and Secrecy