Positively Trending Documentaries
Sep 6th, 2017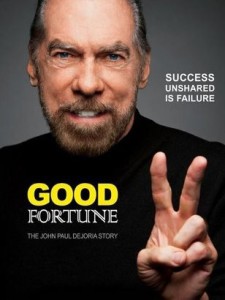 The trend in documentaries that leave audiences feeling inspired is growing, and I'm proud to have story consulted on some of these hits.
In the trailer to Al Gore's new documentary An Inconvenient Sequel, Gore says, "Despair can be paralyzing, but this to me is the most exciting development. We're seeing a tremendous amount of positive change."
Gore was talking about climate change, of course, but his upbeat, solution-oriented tone can be seen in a number of recent documentary debuts.
Take Josh and Rebecca Tickell's new documentary Good Fortune, which tells the story of a John Paul DeJoria. An outlier of the so-called "one-percent", this entrepreneur embodies Conscious Capitalism by giving away half his fortune to charities.
I story consulted with the directors after we met at Esalen, where I was teaching about transformational documentaries. Having inspired audiences with Fuel and other social issue docs, this couple saw a huge audience hungry for progressive documentaries that, in their words, don't "paint a fear-based view of the world."
Two years later, the Tickells reported that their Los Angeles premiere audience gave a ten-minute standing ovation "for a movie that is really a positive message of brotherhood." Critic Roger Ebert called Good Fortune "terrifically engaging" and Deadline Hollywood says, "Inspiring doesn't begin to describe it."
Another "positive message" documentary that I'm proud to have helped structure is Pamela Tom's Tyrus. This inspiring portrait of a Chinese artist has won a slew of awards. And Pam will realize the dream of many filmmakers when Tyrus debuts on PBS's American Masters this Friday, September 8th, at 9pm/8c.
There are specific editorial decisions and techniques that can make the difference between an inspiring or depressing documentary. If you believe that documentaries should do more than leave people feeling frustrated and angry, email me about a story consultation.