How To Sell Your Film Workshop
Apr 2nd, 2017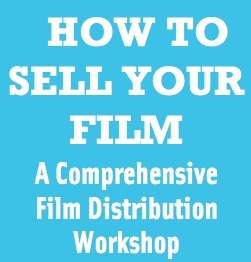 Just a reminder that HOW TO SELL YOUR FILM is coming up next weekend at UC Berkeley, and you don't want to miss it! I took it last year and can't recommend it highly enough.
Jilann Spitzmiller and Anna Darrah are offering this comprehensive film distribution workshop on April 8th. They will be covering all aspects of media distribution today, for films of any genre, length or age. They bring a wealth of knowledge from two sides of the distribution aisle: Jilann from the filmmaker side and Anna from the distribution side. They cover the tools that are available to you as a media maker right now to get your film seen, and make money as well. This information applies to your older films, as well as your new projects.
Day 2 is now sold out, but Day 1 still has a few slots left. Day 1 is a power-packed day filled with tons of useable info that will get you to the next level of confidence navigating the world of distribution. Empower yourself – Register now!