Documentary Webinar Recording Available
Mar 10th, 2017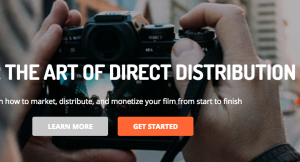 Wednesday I had the pleasure of being a guest on the webinar "How To Find Your Film's Audience". If you missed the live session, you can register and listen for free at filmmaker.mba/karen-everett-audience.
I developed new material for this topic. Unfortunately, my microphone didn't come through crystal clear (I'm audible), so I'm including some of my ideas below and in next week's newsletter.
Hosted by my former story consulting client Chris Rufo and his partner Keith Ochwat, the webinar was full of nuts and bolts strategies for finding your documentary's niche audience. I urge you to check out their Filmmaker.MBA program to learn business skills for documentary filmmakers.
This fan-based approach is reminiscent of author Kevin Kelly's famous 2008 blog about 1000 true fans. His claim that a creator can thrive on 1,000 true fans is still relevant today.
You don't need millions of viewers, you only need 1000 true fans, which Kelly defines as someone who "will buy anything you produce".
The math goes like this: sell 1000 fans $100 worth of good content (videos, DVD's, movie posters, study kits, etc.) per year. Sell directly to your fans, so you keep all the revenue (zero goes to distributors). That's $100,000, a good living for most people!
In the free webinar, we modify this "niche market" concept for documentary filmmakers. Check it out!