Vetting Documentary Editors
Feb 4th, 2017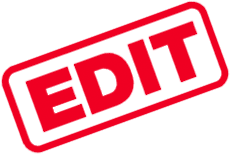 If you're going to be hiring an editor soon, you may be happy to know that I've done a lot of the vetting for you.
I've reviewed scores of resumes and chosen the best candidates to train in our unique post-production system. We're excited to be bringing a few more select documentary projects to completion this year.
If you're interested in exploring a collaboration with one of our talented editors, please contact me for a free consultation. We make a special effort to understand your vision for the film.
You can learn more about our approach here:
newdocediting.com/accelerated-post-program
I also invite you to visit our testimonials page and determine if New Doc Editing is right for you:
"I retained the services of New Doc Editing to create a trailer for my documentary Across The King's River. It was not only amazed by how swiftly they helped craft the introduction, but by how artfully it was done as well. While it's true that some editors have lower rates, I liked the satisfaction of knowing that I defended the integrity of my vision by hiring the right team. In addition to Karen's sharp storytelling instincts, it was a pleasure to work with her staff."
— James Weeks, Producer, Across The King's River
Please email me today to schedule a free consultation.
Note that I am offering all of my popular online documentary seminars at no charge to directors who use from our editing or story consulting services.