Overcoming Cynicism in Documentary Filmmaking
Feb 23rd, 2017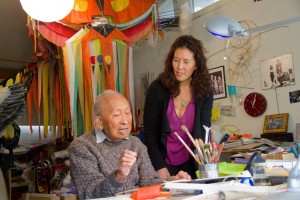 A few months ago I read a thread on Doculink about how making documentaries can lead to cynicism. One filmmaker felt the herculean effort to fund, make, and distribute a doc was, in hindsight, simply not worth it. Others argued that a labor of love pays off in the end.
I understand how artistic idealism can lead to despair, especially when making a doc drags on for years. Without funding and a clear narrative approach, what's the point? Not to mention the cost.
And yet, every month I hear from filmmakers that we've worked with who tell me their success stories. I offer two examples to inspire you.
First, congratulations to our story consulting client Ronit Bezalel, whose documentary 70 Acres in Chicago had its U.S. television premiere earlier this week on PBS World. If you missed this moving character-driven documentary about Cabrini Green public housing project, you can get it here.
Ronit nurtured her dream film for twenty years! I believe the reason she never lost sight of her goal was her love for her characters, each navigating complex social justice issues. 70 Acres in Chicago will screen this Saturday at the Big Muddy Film Festival.
Like Ronit, filmmaker Pamela Tom had three story consultations with New Doc Editing to shape TYRUS, a biography that shines a spotlight on a genius at Disney, Chinese American artist Tyrus Wong.
She first met Tyrus in 1998 when she had no cash, no crew, and no clear narrative arc. But there was something stirring about this old man. As Pam tells it, fellow filmmaker Freida Lee Mock advised her to just get the interview in the can.
That was nearly two decades ago. Recently Pam emailed me that Tyrus had died at age 106, shortly after the documentary premiered. His obit appeared on the front page of the New York Times.
In post-production, Pam had encountered plenty of editorial hurdles, but she kept reworking the story until she got it right. Bucking the trend against take-down documentaries, TYRUS is an inspiring film, and it took an inspired director to pull it off. "It just goes to prove that uplifting stories will resonate with people," she told me.
Pam's film has won eight awards so far, and you can catch it on American Masters later this year. To inspire you, here's an excerpt from Pam's email to me:
"Despite it taking me nearly 17 years to finish—with many struggles, rejection and self doubt along the way—I am so grateful to have finished it in time for Tyrus to see it and enjoy so much recognition. I hope my experience gives encouragement to the many doc filmmakers among us who toil away and devote years, sometimes decades, to telling the stories they believe in. It's a worthy cause."
Finally, I created our Accelerated Post program so you don't have to take decades (or even years) to finish your documentary.