The Latest Innovation in Documentary Filmmaking
Apr 21st, 2012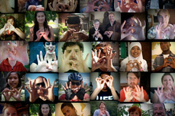 You've heard of crowd-funding. How about cloud filmmaking?
Leading the latest innovation to sweep the documentary world, Tiffany Shlain and her team at The Moxie Institute have developed a new way of creating collaborative films she's calling Cloud Filmmaking, and it's getting high profile treatment at the Tribeca Film Festival this week.
But first…if you are interested in joining my six-month program for documentary filmmakers, please let me know today. The Inner Circle has been attracting many talented filmmakers lately, and the last two circles sold out. You can still get the early-bird registration savings. Go to:
http://newdocediting.com/land/innercircle
So…what is cloud filmmaking?  As my story consulting client Tiffany Shlain explains it, an explosion of online video and emerging file-sharing technology is allowing filmmakers to solicit footage and voices from around the world to appear in their films.
In fact, Shlain, a director with four films in past Sundance Film Festivals, rarely shoots film anymore!
She has written a five-point "Cloud Filmmaking Manifesto" which the Tribeca Film Festival posted on their "Future of Film" blog:
http://www.tribecafilm.com/tribecaonline/future-of-film/The-Cloud-Filmmaking-Manifesto.html#.T5BY1JgZzO-
I love point number three, "To give back as much as is received, by offering free customized films to organizations around the world to further their message."
Shlain and her team are walking their talk by customizing short films with non-profits' taglines.
You'll find another great example of crowd-sourced filmmaking in "18 Days in Egypt", a collection of stories about the ongoing Egyptian revolution.
It's directed by Jigar Mehta, once a video journalist for the New York Times (and a former documentary student of mine at UC Berkeley's Graduate School of Journalism). He's at the forefront of this new documentary storytelling tool. Check out his work at:
http://i-docs.org/jigar-mehta.
And … please email me if you are interested in joining the upcoming Inner Circle, which begins April 30th. I've extended the early-bird registration because a few filmmakers missed the announcement: